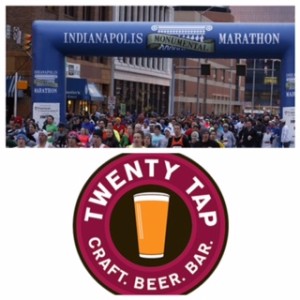 Most important, GOOD LUCK to everyone who is participating in the Monumental Marathon, Half Marathon or 5K Novemeber 7th!
Plan to meet up with the Phoenix Team Saturday morning before the Monumental Marathon whether you are racing or spectating, and then hang out to celebrate in Broad Ripple after the race!
Pre race, Doug and I will see you in the Northeast corner of the Convention Center Expo Hall D at 6:45 AM. We will pose for a group picture at 7:00AM and then the racers can head out for any prerace warm up they want to get in before the 7:30 AM Monumental Opening Ceremonies. Race start is 8AM for the Marathon and Half 'Marathon and 8:20 AM for the 5K.
After the last Marathoners finish, we plan to head up to Phoenix sponsor, Twenty Tap, for beers, burgers and race recaps. See you there around 2:00PM.  All are welcome for the celebrating!