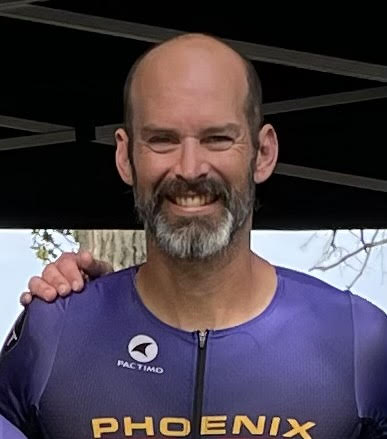 Doug Robinson
Certifications
USA Triathlon Level 2 coach
USA Cycling Level 2 coach
NSCA CSCS coach
USA Triathlon Youth and Junior coach
USA Track & Field Level 1 coach
US Masters Swimming Level 2 coach
Functional Movement Systems Specialist
Race Career Highlights
2022 USAT Sprint National Championships 2nd 55-59 AG
2008 Team USA member for Vancover ITU Age Group Worlds – 17th
2014 Team USA member for Edmonton ITU Age Group Worlds
2018 Team USA member for Gold Coast Australia Age Group Worlds
USAT National Triathlon Championships top ten podium 10 times
16 time USAT All-American
45 Age Group triathlon wins
35 Overall triathlon podiums with 4 victories
USAT Century Club – 100 career triathlons
2014 Boston Marathon finisher
1993 5th place at the Velodrome National Championships – Point Race
---
All throughout his own racing career, Doug has never lost his passion for coaching and helping people improve and grow both athletically and personally.  Doug has been coaching for the past 37 years and over his coaching career, he has helped countless athletes connect with a vision, enhance their passion and provide them with the tools and training to be successful in their respective activities.  He has raced in running, cycling, swimming, triathlons through the full spectrum of distances from 5K and sprint tris through marathons and Ironman.  By meshing together his own racing and training experiences with his past and continuing coaching experiences and education, Doug has developed a philosophy that has guided and empowered over 1,000 athletes to experience both short term accomplishments while at the same time laying the foundation for continued long term development.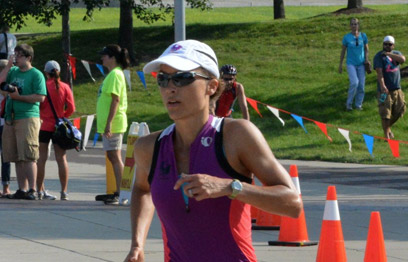 Heather Robinson
Certifications
ACE Certified Personal Trainer
Functional Movement Systems Specialist
USA Cycling Level 1 coach
USA Track & Field Level 1 coach
US Masters Swimming Level 2 coach
Race Career Highlights
23 running Age Group wins
2 running Overall wins
6 time Boston Marathon Qualifer
2012 fastest Indiana woman at the Boston Marathon
15 triathlon podium Age Group finishes with 10 being wins
5 triathlon Overall podium finishes with 1 Overall  victory
---
Heather began absorbing information about endurance training in 2007, learning the valuable principles of aerobic zone training, running slower to run faster, training cycles that included active recovery and good nutrition strategies. With a solid foundation of coaching, she found herself racing faster with each event and was shaving minutes off of each PR. Heather has cultivated a love for being part of the unique process people go through when they embark on a fitness journey. Time and again she had seen the importance of focused functional movement training that can enhance strength and flexibly training for the athlete and the health seeker alike. She enjoys helping people identify their fitness goals and challenges and to put training plans for race goals or functional movement and strength-training programs in place that will get her clients to their goals with strength and confidence.