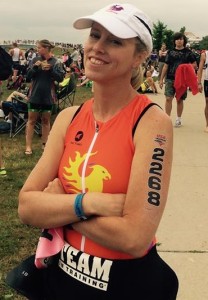 2015 marks my fourth season of triathlon, but my first training with Phoenix and anything other than a "one size fits all" training plan.  Well…what a difference a year, and a customized training plan, makes!
I started to train with Doug last fall after coming off of an overuse injury that caused me to miss my first 70.3.  My goal was simple – get to the race healthy…and then get across the finish line feeling strong.  I am on track to meet that goal in September, but I have gained so much more.  My run pace is improved (by more than 2:00 per mile!); my bike pace is increased; and I have had age-group podium finishes at all three of my races so far this year!  What a surprise since I was previously a solid middle-to-back-of-the-pack finisher and the thought of winning a medal had never crossed my mind.
Doug provides direction and workouts that meet my ability, my ever-changing attitudes, and my busy schedule.  He gives me permission to listen to my body when I'm tired and pushes me when I feel strong.  He's always available to answer questions and suggest alternative workouts for the days when life gets in the way.  Perhaps most importantly, he is helping me gain the confidence that I'm an athlete worthy of competing with the rest of the group.
I am so glad I took this leap of faith to invest more in my health, fitness and hobby.  The work and the effort is revealing so much to me about myself and it's exciting to know that when I've reached this goal, the journey won't be over…there will be something new to strive for.