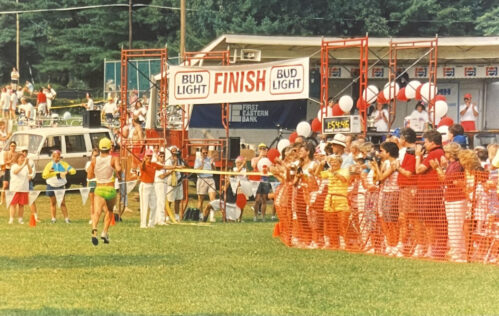 The path that anyone takes through life is unique.  Some people might feel that they have common experiences or similar backgrounds, but none of that can even remotely make two people's life path the same.  Siblings growing up in the same house with the same parents have vastly difference experiences.
It is through this lens that I think back to Sara.
It is 1986 and I am in my first year as a triathlete.  I got into the sport because one day, driving into town, I saw the most un-athletic guy from our neighborhood, Steve, finish a triathlon about a mile from my house. I was curious as to what was going on so I pulled over.  I have no idea where they swam or biked, but the run finished in a gravel pull off area next to a major intersection.  There wasn't a finish line, fans or any other people except for the race director.  I watched as he gave Steve his finish time as they loaded up into the race directors van so he could drive Steve back to the swim start. I was a very odd experience to chat with Steve as he was sweating and trying to catch his breath while climbing in to be driven away.  With zero police around and the race director acting like he was making a get-a-way, I have to wonder if he just handed out a map and told everyone to go for it.  Of course the thought flashed through my head: If Steve could do this, so could I.
I ran track in high school and I had been biking a bit over the previous few years as transportation, but I always liked to time myself from place to place. There was this one stretch of road through the little town of Lemont where I could keep up with the cars and felt like I could maybe even pass them. I had taken swim lesson when I was younger so I knew I could swim, until I realized I couldn't. I got that figured out and I became a triathlete.
My path to triathlon was one anchored in sport, splits and competition. Even if Sarah had a similar background and experiences like mine, her path was not at all the same.
Sarah was overweight and out of shape when I met her and I met her at the first of three triathlon races in the Pennsylvania Tripple Crown. Even back in the mid-1980s, triathletes had "The Look". Tan. Cut. Fit with all of the high tec, fancy equipment. She did not have that look. She was frumpy, insecure and had a bike that was old and held together with rust and ancient memories.
There is a part of me who is drawn to people who have a look on their faces that they think they don't belong. She had that look. So after the race, with a story in my head, I felt a need to soften the edges of the unfamiliar and offer an opportunity to feel more connected t o the moment. I went up to her and asked her how her race went. As she stood next to her bike with the kickstand down she said that she didn't make the swim cutoff time. The thing that surprised me was that as she talked, there was a look of optimistic defiance in her eyes. She wasn't defeated by the way her day went, but instead she was filled with resolve and determination. She told me that she was going to try and do better the next race in the series.
The next race was the Endless Mountains Triathlon.
When I got to that race, I saw Sarah and wished her luck. After the mile swim, 50 mile mountainous bike ride and 10 mile hilly run, I found Sarah to check in with her. She had made it through the swim cut off, but the bike ride was too much for her and her bike and she didn't make the bike cut off time. She said that she had one more chance to finish a triathlon this year and she hoped she could do it.
The last race in the series was the Willkes-Barre Triathlon. It was also the Olympic distance World Championships that year.
In 1987, anyone could sign up for the World Championships. Other than a handful of Australians, Brits and New Zealanders, every triathlete at the race was an American. Even though, on one hand, it was just another local race, it was really a pretty big deal! Two thousand athletes setting up in a two transition Olympic distance race with the swim start nestled into a small lakeside vacation spot and the finish line 15 miles away on the campus of a local college. The who's who of triathlon were all there: Pigg, Tinley, Welch, Molina and Allen to name a few.
Sarah was there too.
It was a beautiful day. The race was on a challenging but fast course and the after party was a dream. Bud Lite was a sponsor and they had an 18 wheeler truck pulled up with taps right out of the side of it and it was a self-serve open bar for those of age. My fellow triathletes and I were there for hours. Sharing stories. Eating the post-race food. Hanging out in the warm, inviting sun and soaking up every last second of the season ending party.
As the hours passed, people slowly started to leave and as with every double transition race, the car was at the start line and not the finish line. So finally, Mike, my training and carpool buddy, hopped on his bike to ride the 15 miles back to the car and then return to pick me up. As I sat and waited for another few hours as Mike made the round trip, more and more people left until it was literally just me and the race director. He was busy starting to take down the race clock and finish line arch and I was just laying in the sun next to all of our equipment. I looked up and over the crest of the last hill came a lone figure.
It was Sarah.
As she shuffled across the now almost fully dismantled finish line, her movements caught the attention of the race director and snapped him out of his focus on his immediate task and the check list of all the other tasks yet to be done. Momentarily startled, by what was obviously an athlete from his race, he quickly regained his composure and shifted his attention to Sarah. He looked up to the location of the race clock to realize that he had just turned it off and taken it down moments before. Quickly he pivoted to Plan B and looked at his watch. I could see the gears turning as he calculated how much time had passed from the first wave at 8:00 AM to the current time, 2:30 PM. He stuttered and stammered a bit as he rushed to yell out Sarah's "official" finish time of 6:30.
As soon as the words were out of his mouth, they hung in the air just long enough for there to be a frozen moment in time. The moment of Sarah crossing the finish line in a triathlon. Sadly, the moment was fragile and too soft to hold onto. As the sound of his words faded away, the race director's body posture went from a tall, proud presenter and slumped back into his checklist as his eyes glazed over. The moment didn't seem to last very long for Sarah either. As soon as the finish line was behind her, I congratulated her, but her attention was on the bonk that was dominating her whole being. She managed a small quick smile, but was then off in search of anything to bring her brain back on line and the torturous emptiness to an end.
I think back to that short 30 second moment. I think of the experience that I had that summer and that day and how it was the beginning of the next 35 years of finish lines for me. Then I wonder if Sarah had other years of finish lines or if that was it? One 30 second moment with a distracted race director calling out a time off of his watch. Did she continue on with the optimistic defiance in her attempt to transform herself from the person she was into the person she wanted to be? Did she shift to being just a runner and chase the challenge of the marathon or did she give up and allow herself get pulled back in by the quicksand pit of complacency? Her journey was like no other. No other person in the history of the world has done what she has done and felt what she has felt. No other person has walked her path, walked my path or walked your path.
Every day, we decide what direction our path goes, the desired destination and how we feel about it. I love being a part of a group that shares my journey with me and the support and accountability that I am grateful to have because of it, but I know that my journey is like no other.