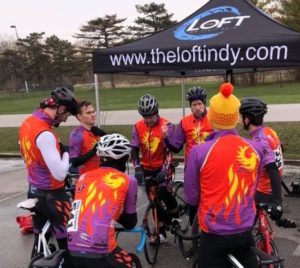 Phoenix Fitness and Training is searching for people interested in racing and riding with Phoenix Fitness and Training in 2018.  All ability and fitness levels are welcome.  The only requirement is that you love to ride your bike.  Even though we have open membership, we are looking to build the competitive side to our men's and women's race team for 2018.
The current cycling team membership is made up of Category 3, 4 and 5 level racers and Masters racers.  In 2017, the team targeted Truesport.com events, Indy Crit, Mass Ave Crit and other local events including racing at the Major Taylor Velodrome.  The team also has interest in attending races at the Intelligentsia Cup in Chicago, the Gateway Cup in St. Louis and the Hyde Park Crit in Cincinnati.
There are three requirements to become a Full member of the Phoenix Cycling Team:
Pay an annual membership fee of $100
Purchase any desired Team Kit items at either the Winter or Spring order
be willing to help out/volunteer at at least one community event.
With Full membership, there are a number of benefits:
Access to expert mentors, race strategy development and guided training advice
Structured team training practices and opportunities
Access t0 all CompuTrainer workouts at 50% off
U25 Racing Program
If you have not yet reached your 25th birthday, you are eligible for the Team Phoenix U25 Racing Program.  To support riders efforts to grow into the sport, Phoenix Fitness and Training is waiving the $100 membership fee and providing one free Team Phoenix racing skinsuit for Cat 3 riders and above.
Additionally, if you are still enrolled in college or high school, all classes over Fall, Winter, Spring and Summer breaks are also free.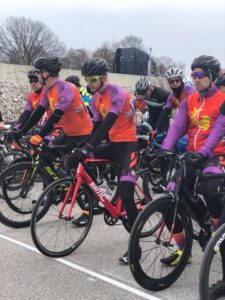 2018 Team Phoenix Target Races
Notre Dame 4/22 Register
Mooresville 4/29 Register
Urbana 5/6 Register
Fat and Skinny Tire Fest 5/18-5/20 – Warsaw IN Register
Speedway 6/10 – Register All teammembers race and/or volunteer
Indy Crit 7/14 Register (sign up now, 1st 20 in each race get a call up)
Heroes 7/28 Register
Muncie 7/29 Register
Others
Monsters of the Midway 5/5 – University of Chicago Register
Lake Hope 5/6  – OH Road Race Register
Hammond Regional Riot 5/12 – Hammond, IN Register
Whiskey City 6/21 – Lawrenceburg, IN Register
Hyde Park Blast 6/30 – Cincinnati, OH Register
Intellegensia Cup 7/20-7/29 – Chicago area Register
RAIN 7/21 Register
River City Bicycle Classic Register
Major Taylor Velodrome Schedule
Track 101 dates: Register  April 21, 22 – May 5, 6, 19, 20 – June 2, 9, 16 – July 1
Monrovia TT Series  May 27, June 17, July 15, Aug 12, Sept 9
Kokomo TT Series    May 20, June 10, July 1, Aug 5