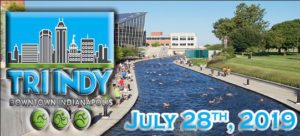 Phoenix Fitness and Training is offering a Training Group specifically designed for the beginner or novice triathlete.  This 12-week program starts on Tuesday, May 7 and will focus on developing the appropriate skills, confidence and fitness for someone to complete their first triathlon.  Tuesdays will be a bike practice.  Wednesdays and/or Thursdays will be a run practice.  In addition to the week day practices, there will be 8 clinics/practices that will cover Transitions/Open Water Swim Skills and Brick Workouts.  In addition to the coached practices, each participant will receive a packet with additional suggested workouts and an outline of highlights from the Sunday clinics.
The group will be coached by Doug and/or Heather Robinson.  Doug and Heather have 44 years of combined triathlon racing background and have been coaching triathletes for at least 27 of those years.  Heather and Doug are both members of Team USA and will represent the United States at the ITU World Championships for a second time, but they remember what it is like before they became triathletes and the journey that took place on their way to finishing their first one.   Both Heather and Doug are USA Triathlon Certified Coaches and have helped hundreds of people on that same journey.
Tuesday, Wednesday or Thursday Practices start at 6:30 PM.  Sunday Practices start at 2:00 PM
Tuesday Practice Dates: May 7, 14, 21, 28, June 4, 11, 18, 25 July 2, 9, 16, 23
Wednesday Practice Dates: May 22, June 19, July 3
Thursday Practice Dates: May 9, June 6, July 18
Sunday Practice Dates: May 12, 26, June 2, 9, 23, July 7, 21 and pre-race practice Saturday July 27
Race Day: Sunday, July 28
Limited to 16 people.
Additional Fees: Registration Fee to Tri Indy: Non-USAT member $80
*** This program will not include swim practices or learn to swim programming. We recommend including a summer membership to Indy Aquatics Masters for your swim needs. Indy Aquatics Masters has a great adult learn to swim program that starts March 18-April 10 and April 22-May 25. Those classes will be on Mondays and Wednesdays from 7:15-8 at Butler and Tuesdays and Thursdays at Warren Central.